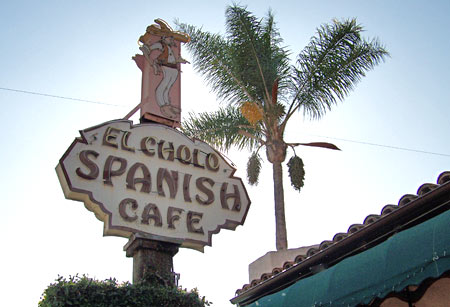 [I apologize in advance for this post. "History buff" does not really describe me, "history nerd" would be much more appropriate]
On Friday April and I stopped to eat at one of our favorite Mexican restaurants on our way back from an afternoon at the beach in Santa Monica.  El Cholo is L.A.'s oldest and arguably best Mexican restaurant (the original is in Korea Town, around the corner from our Stake Center).  While we were sitting in our booth, enjoying chips and salsa, April's attention was diverted to a framed letter on the wall. 
The letter was from Ray Bradbury.  Apparently he spent much of his childhood in an apartment less than a block from the Restaurant.  In the letter he reminisces of his time growing up in Los Angeles.  Among these reminiscences is the revelation that as a boy Bradbury joined a theater group at the nearby LDS chapel (the L.A. Stake Center).  The group was led by Laraine Day, a relativly famous Mormon actress.  Bradbury also mentions that it was while he lived there that he wrote his early stories.