I'm calling this "Favorite Albums" instead of "Best Albums" because I know I've probably missed a few of the best ones, in fact I've been so busy this year that I'm sure of it. For example, my brother Kevin tells me that there is a really good punk/techno crossover thing going on right now but I haven't had time to get into it. But from what I've heard these are the best albums of 2008.
The Killers
,
Day and Age
. The Killers have demonstrated why they are one of the best things happening in music right now. Day and Age doesn't quite match the near perfect song writing and pop-craft of
Sam's Town
or the overall feel of
Hot Fuss
, but it's close. This is a solid album. I like almost every track especially:
Loosing Touch, Human, Spaceman, A Dustland Fairy Tale, This Is Your Life,
and
I Can't Stay
. I heard some early versions of the tracks that were mixed with a lot more techno and I was a little disappointed to find that they took some of that out for the final product but still this is an incredible CD.
Death Cab for Cutie
,
Narrow Stairs
: This may be the best Death Cab album ever. If not, it's a close second to T
ransatlantacism
.
I Will Posses Your Heart
is probably the best song of the year. I didn't think that people trying to make hits dared to write songs over 8 minutes anymore and certainly not with five-minute intros. The track is perfect. I love
Grapevine Fires
it tells a story, paints a picture, and sets a mood with flawless execution, possibly the best lyrics of the year. I also like
Your New Twin Sized Bed.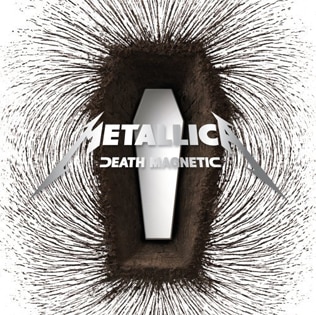 Metallica
Death Magnetic
: With
St. Anger
I dismissed Metallica, choosing to instead listen to
Ride the Lighting
and relive the glory days. I mean
St. Anger
was an entire Metallica album without a single guitar solo. The whole album was Lars pounding on drums atop a cement floor as hard as he could to prove that he was still hardcore. And then there were the lyrics. Now lyrics have never been Metallica's strong point. Every album has had its moments where the lyrics make you cringe and a lot of the songs rely on clichés, the most obvious sign of weak writing (there are a couple of Metallica songs with truly great lyrics. I'm thinking of
Master of Puppets
and
Battery
). But the lyrics on
St. Anger
were especially bad "Saint Anger 'round my neck, he never gets respect" and "my life-style determines my death-style." Now that's deep. But the final nail in the Metallica coffin was when I saw them on the
Sally Jesse Raphael Show
talking about their group therapy sessions in some sort of sob-fest with a bunch of 40-something Oprah-ites. The painful memory still haunts me. Plus they had clearly demonstrated that they were only in it for the money and would sell out for anything and go after their fans for money. I like Robert Trujillo and his prior work but I thought his addition to the band was a mistake (something I have to take back with this album).
But then
Death Magnetic
came out this year and it kept getting good reviews so I decided to get it. Here was the Metallica I remembered, the one that spent eons in the studio getting things right. Musically
Death magnetic
is very good, on par with the early alums. Of course there are still a couple of lyrical hiccups like "love is a four-letter word." But who cares, I like every track on the album.
Paul Jacobsen and the Madison Arm
: I still find myself listening to this on a fairly regular basis. See my
prior post
.
Coldplay,
Viva La Vida
: A solid release from a great band. The EP
Prospekt's March
is also very good.
Ray Lamontange
,
Gossip In the Grain.
The Mars Volta
,
The Bedlam In Goliath
. A bit of a disappointment compared to their previous work but still worth a mention.
Song Nods
Some of these were ITunes freebies, many of them I got for free off of download.com, and a few are from albums that I bought that aren't quite good enough to warrant a mention above.
Republic Tigers
,
Buildings and Mountains
. Second best song of the year.
Sam Sparro
,
Black and Gold
Grupo Fantasma
,
El Sabio Soy Yo.
Possibly the best Latin song ever.
The 88
,
Go Go Go
MGMT
,
Kids
and
Time to Pretend
Dark Captain Light Captain
,
Jealous Enemies
Belanova
,
One, Two, three, Go!
Snoop Dogg
,
My Medicine
Kathleen Edwards
,
Buffalo
Ludovico Einaudi
,
Andare
. Beautiful and the only new classical piece I found all year.
Cut Copy
,
Lights and Music
David Hopkins
,
Amber and Green
. My friend Mac used to manage this guy. Seriously, this is a great song I think you can still get it for free on Download.com
Blitzen Trapper
,
Furr
Adele
,
Hometown Glory
We the Kings
,
Check Yes Juliet
.
Gran Ronde
,
Wisdom
RuRu
,
Elizabeth
The Broken West
,
Auctioneer